Creative ways to get your garden Summer-ready
Posted by
APrior
on
May 3, 2019

May bank holiday is coming up and summer's just round the corner – so it's the perfect weekend to join the 27m UK residents who love gardening (say Lovethegarden.com). But once you've mown the lawn, trimmed your bushes and dusted off the trampoline, there are still plenty of ways to get your garden summer (party) ready, even if you're more fingers-and-thumbs than green-fingered - by getting a little creative…
Light it up
Nothing adds a sense of magic to a summer evening more than lots of twinkling lights. Beyond the obvious tealight candles or tiki lamps, a well-placed set of hidden, weatherproof fairy lights or solar-powered lanterns will create a far nicer atmosphere than harsh exterior lighting. How about getting a solar-powered chandelier, light-up planter pots or using a remote controlled, colour-changing set of lights to really give things a dramatic glow?

Or add a romantic, rustic charm by making your own mason jar lanterns with battery-powered tealights, hung strategically around your garden.
While it's tempting to block off or disable an exterior security light to keep the mood lighting, just don't forget to make sure these are switched back on again and working properly before you pack up for the night.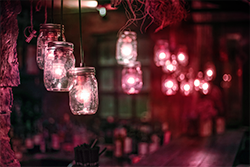 Grow a cocktail garden
Imagine making a summer drink for your guests, then just reaching over your shoulder for a finishing sprig of mint or fruity garnish? Building and maintaining a small herb or fruit garden is a manageable project even if you're not an experienced gardener. You can buy small, drainable garden boxes fairly cheaply, or fashion a more rustic one yourself using large sleepers. Find a spot which catches the sun for several hours a day, fill the raised bed to just below the top with a mixture of soil and peat-free compost, then plant already-mature, rooted plants from the garden centre and off you grow!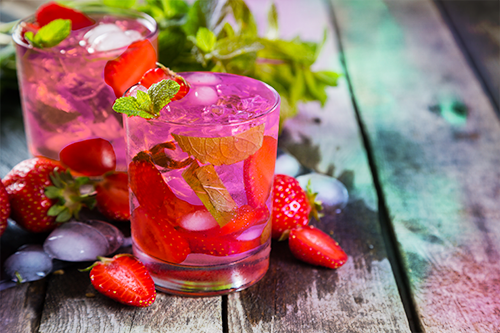 Take movie night outdoors
Digital projectors are more affordable these days and can easily connect to a laptop and portable bluetooth speakers. Look for projectors with the highest lumens for your budget - the higher the lumens count, the brighter the image. You can buy small cardboard projectors for around £20 (many with glorious retro styling), that magnify the image from your smartphone, which could be fun to create a mini-cinema for the kids' table or a romantic al fresco date night - though obviously you'll need to lower your expectations of picture quality! Of course, you could always just take a laptop outside.
Pack it up, pack it in: After the credits roll and you head in for the night, be sure to take your projector/laptop, speakers and any other household items indoors or lock them away.

While your garden furniture is generally covered under the contents in the garden section of your home policy, it's always best to check this with your insurer. If you're a Sheilas' Wheels Home insurance customer, you can check out our garden furniture cover in your policy booklet.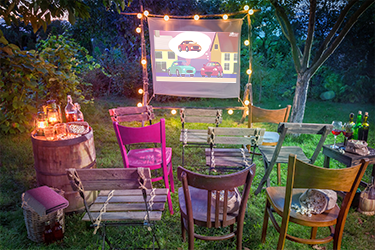 On the tiles
There are more ways than just a power washer to revive a tired-looking patio. Bring fun and flare to your garden by picking out a few slabs to paint in vibrant, waterproof colours. We'd go pink obviously, but over to you…!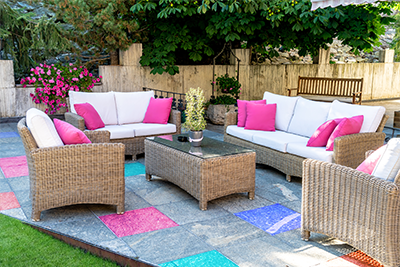 While you're feeling creative...
Tin can drink holders are an easy and attractive little DIY project which can really get people talking at your garden party. Decorate with thick wrapping paper or paint to go with your garden, the theme of your party - or personalise with a picture of each guest to really get tongues wagging!

A firepit is a really great centrepiece and is a fairly achievable DIY project if you have the skills. However, if that all sounds exhausting (or as dangerous to you as it does to our Risk department), how about making neat little table top versions, using stones or glass pebbles and small cans of fire-gel? Simple to construct, but great fun and a real talking point. Just remember to keep those flames far away from any trees, fences and outbuildings.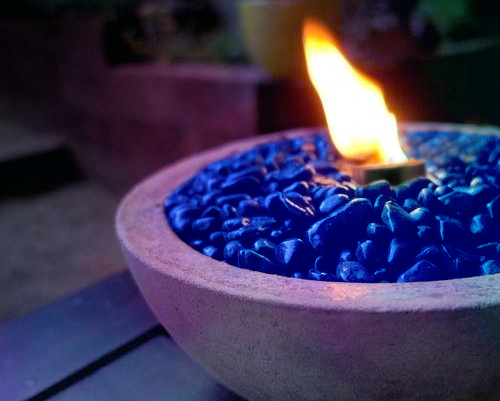 A final note on security. If you're out enjoying the sunshine in your garden don't leave any out of sight windows open to avoid any opportunistic thieves on the lookout.

OK, party-pooper bit over - get out there and get the party started!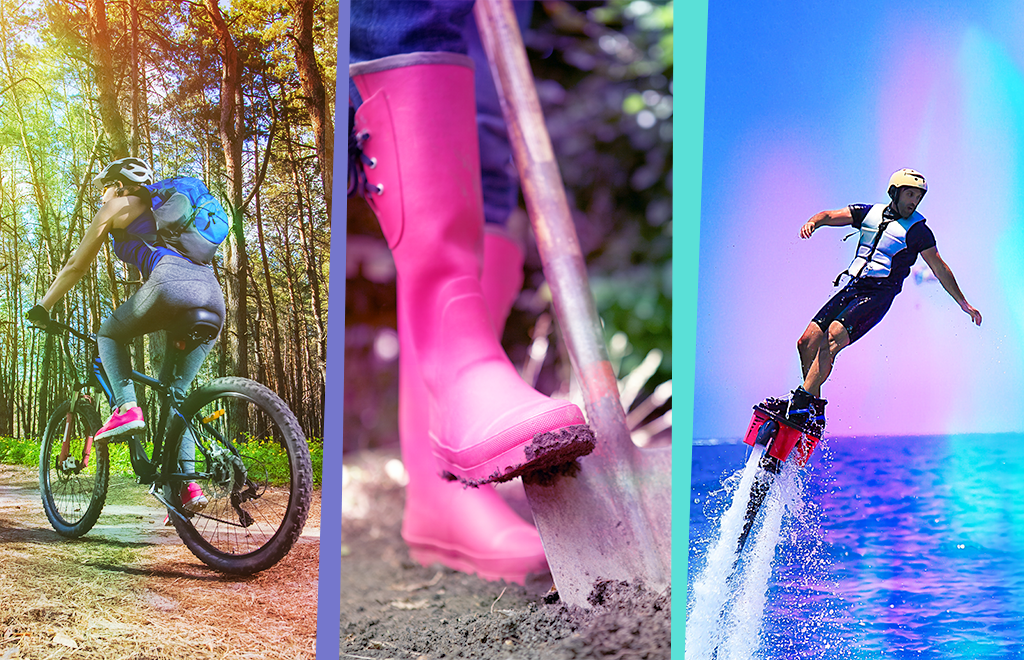 A step beyond the garden
Make the most of Great Outdoors Month and find your next adventure!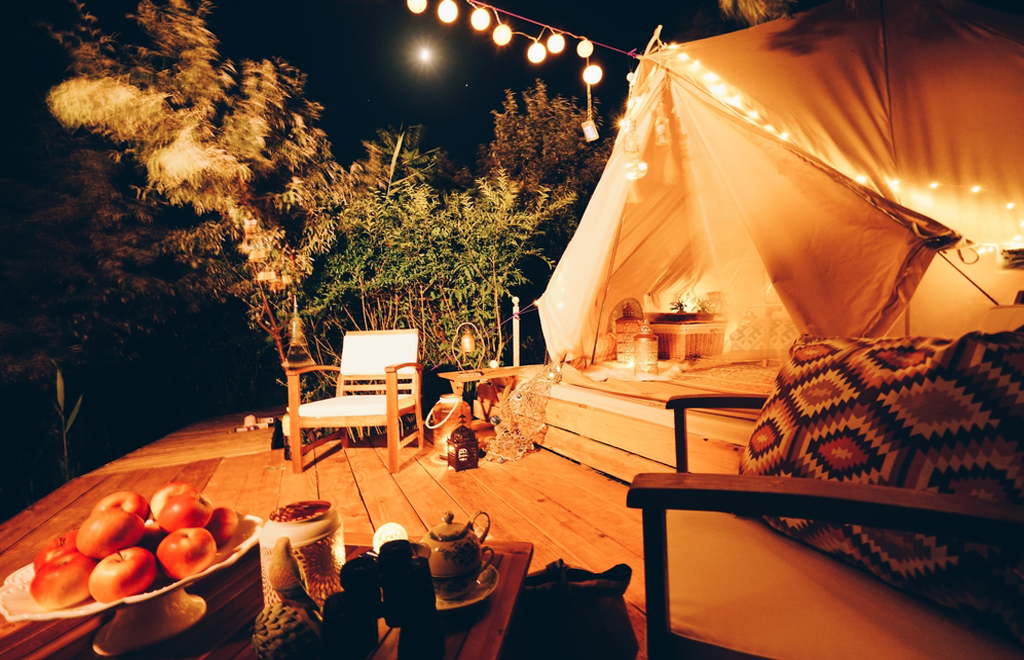 Staycations sorted!
Staying closer to home this summer? Check out our ideas for some more unusual breaks