Join the Staycation Nation!
Posted by
LStevenson
on
June 21, 2018

For many years, the fly-n-flop was the default option for Brits when it came to the Big Summer Holiday. But more and more of us are keeping it local, with staycations continuing to grow in popularity. Whether it's a road-trip with jaw-dropping scenery, a seaside break or connecting with the great outdoors, this little island of ours has so much to offer if you know where to look.

At Sheilas' Wheels, we like to do things a little differently, so here's a few ideas from slightly off the beaten track…
Glamp it up!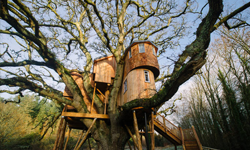 From posh yurts to luxury lodges and treehouses, glamping is the perfect way to connect with nature – without the mud, sweat and tears! If wrestling with tent poles, washing yourself with wet wipes and racing the rain to pack things away has put you off camping, then glamping may be just the thing to rekindle a love of the great outdoors.
Just not having to pack, build and repack a tent is a bonus, but there are some incredible glampsites and unique locations all around the country to choose from.
Here's a few sites to check out…

Feather Down has glampsites up and down the country, with options from log cabins to canvas lodges. The working farm locations offer a chance to disconnect – instead of electricity and Wi-Fi, there's oil lamps and wood fires. So turn off, tune out and relax …or make sure to pack one of those portable phone chargers.

The National Trust website has an entire section dedicated to glamping, with locations around the UK. You'll still need to pack things like sleeping bags and cooking equipment. But hey, less time fiddling with guy ropes = more time chillaxing, so still a win.

Canopy & Stars has more unusual places to glamp for a truly unique and unforgettable staycation – from converted buses and Airstream trailers, to frontier cabins and outrageous luxury treehouses in locations all around the UK.
Look for the Weird & Wonderful
But if even luxury sleeping in the great outdoors isn't your thing, you could always hang your suit of armour in a castle for the night or go straight to jail. A 4-star jail, that is…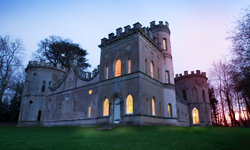 Clytha Castle in Monmouthshire (pictured) looks like a proper romantic fairytale castle …mixed with a giant chess set! This turreted, gothic retreat sleeps six people, so grab a group of friends or family and have a staycation fit for royalty. Head to Landmark Trust for a list of more historic castles and towers to stay in across the country.
You can spend the night in a luxury converted prison cell where former residents used to stay for free (at Her Majesty's pleasure, that is). The Malmaison Oxford is a 4-star, thoroughly modern affair, but retains some of the Victorian prison's original features, such as cell doors and stairways. Bet the porridge is good.
Or how about climbing onboard a yellow submarine…? This Beatles-themed barge is moored in Albert Dock, Liverpool, and with the famous Cavern Club only a 15-minute walk away it's the perfect pad for any Beatles fan - or anyone on the lookout for a truly fab place to stay.
Road Trip, baby!
Whoever said "life's a journey, not a destination" was onto something. Was it Aerosmith? It might've been Aerosmith. The UK has some truly awe-inspiring drives (like the infamous, hair-raising "Snake Pass" in the Lake District), but how often do we take the time to get behind the wheel with nothing but adventure in our hearts and really enjoy just the drive itself?
Speaking of Aerosmith… the secret to a great road trip is the music you play on the way. So to make sure you're sorted before you set off (no fiddling with your smartphone whilst driving, please!), check out our Sheilas' Wheels Ultimate Road Trip Playlist…
DO I NEED TRAVEL INSURANCE FOR A STAYCATION?
With all the excitement building before your holiday, insurance is probably the last thing on your mind - especially if you're staying on home turf - but there are still some things you should probably think about.
Things you might want to check

Check if your provider will cover you for UK stays. Sheilas' Wheels covers UK trips of at least two nights away, more than 25 miles from your home, with pre-booked transport or accommodation.
Check your Home Insurance policy – if you have Personal Possessions cover, this might cover you for items away from the home that get lost or stolen. It's unlikely you'd be covered in a tent, though.
Check if your travel insurance covers camping trips as tents and canvas accommodation may be excluded.
As with any insurance, take the time to read the policy details before you make any decisions, or give your provider a quick call – they should be happy to answer any queries.
If you're taking a trailer or caravanning, check that your car insurance covers you for towing, and your trailer or caravan is included in the recovery from your breakdown provider – so you don't end up having to leave your second home on the hard shoulder!

 

Why not take a look at our travel insurance? Buy online and you could save up to 20%