Ways to make your fitness fun
Posted by
EHoganKeogh
on
September 30, 2020

We know everyone's personal relationship with exercise varies. But as with any relationship, even the most intense, 'hot and heavy' starts can gradually lead to something of a 'cooling off' period, which left unchecked can eventually result in boredom, lack of motivation and eating a whole tub of ice cream in front of the telly.
Fear not though. Here at Sheilas' we know all it takes is a little bit of a shake-up to stoke the glowing embers of that early passion, and relight your inner fire to get you back on track! That's why we've put together a list of some more funusual ways to give you inspiration to help make your workouts fun.
Lollipops
(Skepticism totally understandable, but bear with us on this fun way to get in shape). Sadly we're not releasing a new range of 'Sheilas' Sugar-Free Spinach Suckers' or anything…but we are suggesting that by writing a variety of exercises onto used lollipop sticks you can add some sweet spontaneity to your sweat sessions! Place them upside down in a "Daily Workout" cup, then pick one at random when you start your workout to determine that day's activity. When complete, simply move it to the 'Done' cup; keep going until they're all finished, then start all over again. You can add as many exercises as you can think of, throwing in some silly ones to really mix it up - and what's more, it adds a little extra value to that occasional well-deserved ice lolly.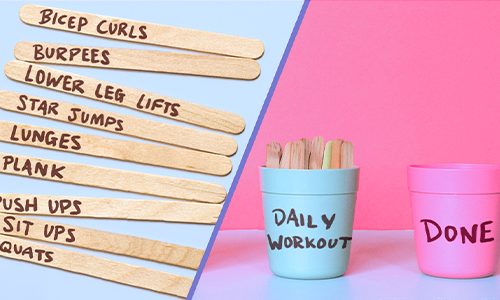 Deep clean to keep lean
No, we're not talking about the strength of shower required after a particularly intense spin class (although at times like that, a little extra body wash never goes amiss…). We're talking about turning a big clean of your house or garden into an opportunity to really work up a sweat. Take it from anyone who's ever tackled a cat-haired carpet, stubborn oven stains or deep-rooted weeds: housework has some serious perspiratory potential! So why not give it a go - plug in the earphones, pump up the volume and take those tedious tidying jobs to a whole new level. Singing into mop handle optional.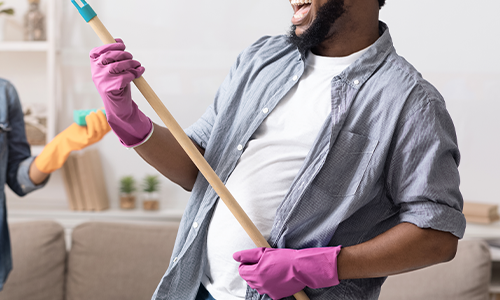 Dance party
With some restrictions still in force, most places you'd usually get your dancing fix have been no-gos for a while. But that doesn't mean you can't cut some serious shapes at home. Whether it's an air guitar competition, a tub-thumping, bass-pumping, heart-jumping all-nighter, or a more neighbour-friendly silent disco that goes through to the early hours of the morning, getting your groove on is a fantastic way for you (and your household) to get heart rates up while you get on down.
Table for fun?
Healthy eating doesn't have to be a tough sell; sometimes it just needs the right pitch. Saying "healthy spinach and chickpeas for dinner tonight, guys" is likely to elicit groans and pouts from your household; but exclaiming "¡bien chicos, we're heading to Spain tonight for Espinacas con Garbanzos!" - with an optional flamenco-flourish - should produce a much more positive response. And possibly some laughter, depending on the success of your flourish. The more themed the night and the more focus on the fun, the better; and the more chance that 'Fun Food Night' ('...With Incidental Health Benefits', to quote its full name) will become a regular event. So as well as themed healthy cuisine, think flags, music, fancy-dress…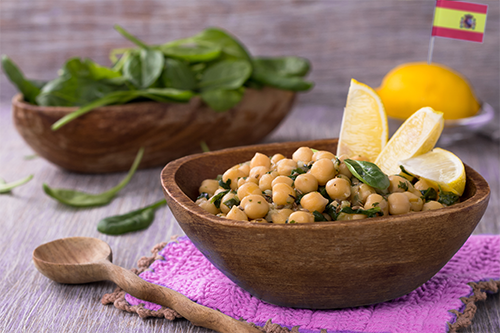 A date night to get your heart racing
'Date nights' are important. But too often they turn into sedentary, soda-soaked sofa-cinema sessions, not a chance to actively connect and do something together. But by making date night a little more active, you could be simultaneously keeping your mind, body and relationship super strong! Take an online workout or dance class together, why not try pilates or relaxing yoga, a romantic bike ride, evening walk or a game in the park…there are plenty of great ideas out there for active date night activities.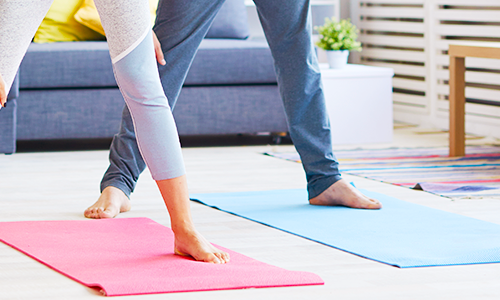 Games night
Why bother with Cluedo, charades or quiz nights when you could be entertaining on your feet? (OK, we'll make an exception for charades depending on how committed you are to acting out film scenes from "Marathon Man", "Step Up" or "Pumping Iron"…).
Combining the fun and social element of a games night with physical activity doesn't have to mean real sports - you could just as easily break out the Just Dance game or a Virtual Reality fitness game if you have them, give Twister a turn, or create your own living room Olympics (
plank
hold competition, jumping jacks in a minute, balloon keepie-uppies, laundry basket-ball… just keep it safe, please!). Hopefully you'll find that despite the huffing and puffing from housemates - particularly as you've just smashed their high score - they'll soon be back for round 2.
The important thing to remember about any exercise is that, as part of overall self-care, it should benefit both your physical and mental wellbeing - so it's no good letting it cause you more stress than it's worth to get right. Hopefully these ideas give you some great things to try out, but if they don't work for you, don't worry - keep on giving new things a go, to discover what makes workouts fun for you.
You might also be interested in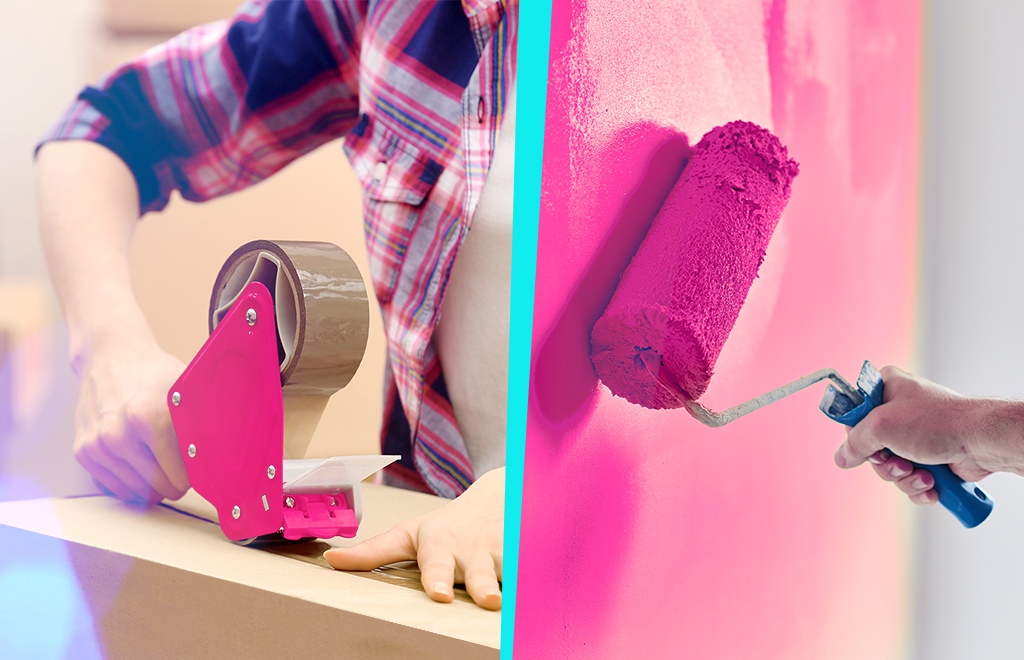 What's covered if I move or improve?
Here's a few things to consider when it comes to your home insurance…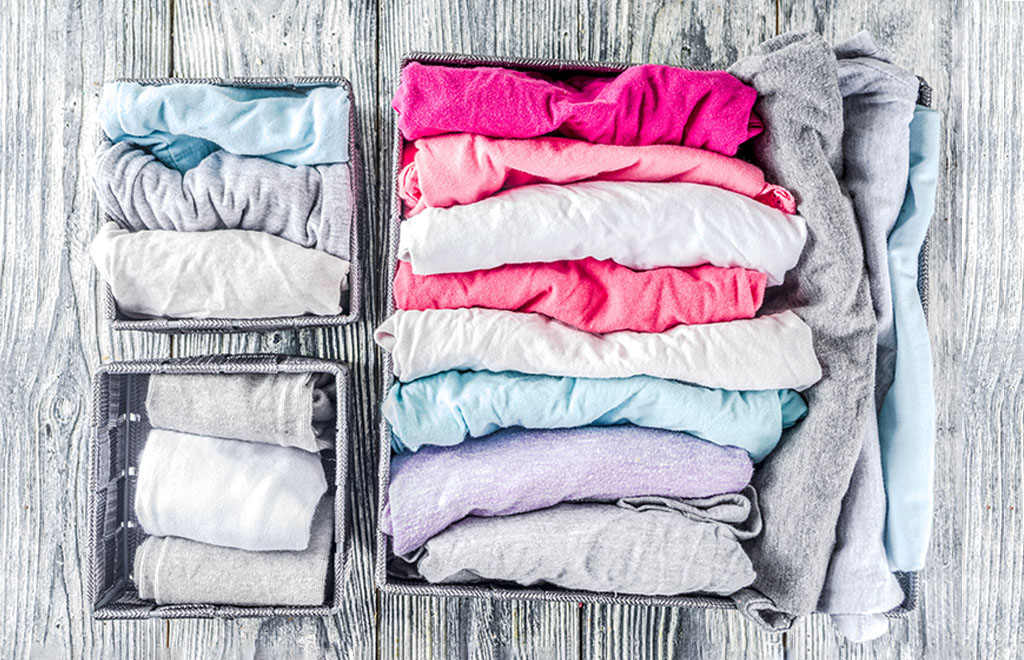 How To Declutter Your Home
We all lead busy lives and sometimes life just gets in the way of all kinds of things, like keeping your home tidy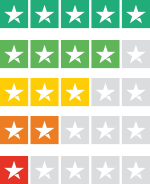 We'd really like to hear your views
Let us know how we're doing – after all what matters to you, really does matter to us.