Sheilas' Wheels Garden Makeover Guide
Posted by
LStevenson
on
June 2, 2023

Gardening can be a great way to relax, take some 'me time' and even get some exercise in too. But with lots of different plants, landscaping options, and even styles of garden, it can be hard to know where to begin a project. If you're in need of some inspiration, have a read of our guide.
Styles of Garden
Before you get down to the nitty-gritty detail, you'll want to have a think about the style of garden you'd like. There's a few to choose from, so here are some ideas:
Formal Garden
Formal gardens are, as the name suggests, laid out in a more ordered, formal way. They use a lot of symmetry and geometric design, and use features such as hedges, topiary, and statues to achieve their structured look.
Cottage Garden
Cottage gardens often have a more cosy, relaxed feel compared to a formal garden. Full of flowers and herbs, they're usually a little more rustic and disordered, but just as beautiful.
Container Garden
If you've got a small space or no actual flowerbeds, a container garden could tick all your boxes. These are made up of pots and tubs and can be used for flowers, shrubs, or even vegetables.
Edible Garden
If you're keen to have a go at growing your own fruit, veg and herbs, an edible garden is for you. They're great for reducing your food miles, you can guarantee no harmful chemicals have been used on your food, and you can grow as much or as little as you like depending on the space you have.
Water Garden
Whether it be a pond, a lake, a network of streams or fountains, water gardens will have these or something similar as their main feature. Filled with aquatic plants, with the right set up in place they can be great for keeping outdoor fish too.
Wild Garden
Bees, birds and other wildlife will be very at home in this kind of garden. With native plants and sometimes a nature-friendly water feature, these are a haven for our wild visitors.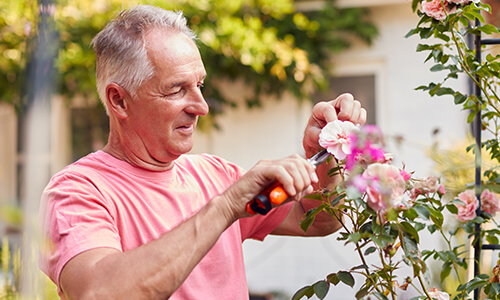 Time to get landscaping
So you've chosen what type of garden you're after – now the more detailed planning begins, with the layout and landscaping.
There are two main types of landscaping, soft, and hard. Soft landscaping is all about the plants and natural materials and using these to design your space. From flower beds to lawns, rose arches to hedge borders, soft landscaping can be great for making a cosy, private space and creating a little bubble from the outside world.
Hard landscaping is where the tougher materials come in. Paths, patios, walls, and steps are all examples of hard landscaping, using materials such as concrete, stone, paving, or brick. You can also use this type of landscaping for things like water features, sun terraces, BBQs and firepits. If you're planning on having a built-in fire pit, BBQ or similar feature, make sure this is built far away from any sheds, fences, trees, or other flammable things, just in case. Be careful when you're getting rid of any used charcoal to avoid starting further fires.
There's quite a bit to think about when you're planning your makeover so you can make the most of your garden. Here are some questions to ask yourself:
How will everyone move through the garden?
You'll want to make sure the layout works for you and everyone using the space. For example, if you're planning a sun terrace at the back of the garden, with a lawn in between there and the house, it might be an idea to build a path so you're not walking across your beautifully manicured lawn.
How much space have you got?
A smaller garden could look crowded if you try to pack too much in, whereas a bigger garden could become hard work if you fill it with flowerbeds.
What features do you want to include?
These will affect how you lay things out too. A water feature might need to be near an electrical supply for the pump, and a firepit shouldn't be placed near a fence that could catch fire, for example.
What about your family and pets?
Your garden's a space everyone should be able to enjoy, and that includes the kids and pets too. Some plants can be poisonous to animals, and some artificial grass can get quite hot under strong sun and burn small feet and paws. Ponds are also something to think carefully about – if you're planning to put one in and you do have children or pets around, make sure it's made safe to avoid anyone falling in.
Where's the sun?
This is something we ask ourselves a lot in the UK, but we actually mean where does it land in your garden, not just where is it and why does it never appear when we've got a week off work… Some plants love full sun, whereas others prefer shadier conditions, so keep an eye on which parts of your garden get the sun when planning where to plant. A lot of the UK will also get overnight frosts in winter, so if you're going for pots, choosing frost proof ones is always a good idea unless you've planning to bring these in over the colder months.
What's the soil like?
As well as the amount of sunlight, your soil conditions will affect the plants you choose too. Some plants love a bit of lime, whereas others find clay is their friend – you can read up on what plants thrive in which soil or have a chat to the staff at your local garden centre for advice. You can add nutrients to your soil to improve it too if it's really poor.
What's your house like?
If you live in a 19th century cosy cottage, an ultra-modern hard landscaped garden might just jar a little with the house itself. It's best to choose materials that complement the style of your home to achieve a harmonious look and feel.
What's your budget?
Gardening can be a surprisingly expensive hobby, with some more mature plants costs in their hundreds (and sometimes thousands!) of pounds. Setting a budget from the off is the best way to make sure you don't get carried away.

If you're including some hard landscaping in your project, make sure you use the right tools and equipment, and follow best practices for whichever materials you've decided to use. Some of these can also be pretty heavy, so please take care if you're working with things like concrete, brick, stone, even some more robust paving slabs. If your budget allows, you might want to consider using a professional landscaper to (literally) help with the heavy lifting. You might want to think about any environmental impact too – if you're able to use more sustainable materials that work in tune with the local ecosystem, that's great. And, of course, you should always check if you need any planning permission for the work you're looking to do. Your local planning office should be able to let you know if anything's needed, whether it be for creating a driveway, or a new garden outbuilding.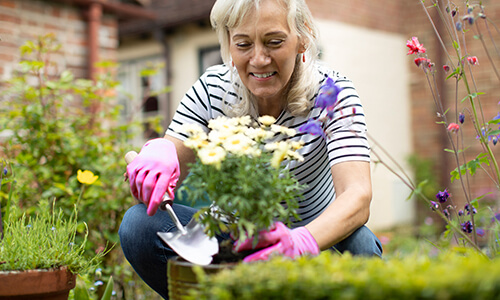 Top tips for perfect planting
The landscaping's done, the flowerbeds are ready, it's time for that trip to the garden centre to get all your lovely new plants! Planting can be a bit daunting if you're not naturally green fingered, so here are some tips to help your flowers flourish:
No-one wants to move into a new home that doesn't feel welcoming, and plants are just the same, so prep your soil before you plant. Things like compost, manure, nutrients, and plant feed can all be helpful additions to give your plants a head start. Your local garden centre should be able to advise on what works for specific types of plants, or you can check the labels.
We know this might sound a bit obvious, but don't forget to water your plants – when life gets busy it can be easy to forget them. Give them a good old drink when you first plant and keep the soil nice and moist. When summer comes and the weather warms up, watering later in the evening is the best plan, so the water doesn't evaporate before it reaches the roots. You could also think about installing a water butt to collect rainwater and reduce how much you use from the tap, saving money on your bill, and helping the environment.
Adding fertiliser to your plants will help their growth and create stronger plants. Fertilise your plants according to the directions on the label.
Weeds are unfortunately not your friend in a flower bed, as they compete with your plants for water, sunlight, and nutrients. Weeding regularly is the best way to keep them under control.
Plants can also be caught out by pests and diseases, so they need some protection from these. If you can, using natural methods is kinder for them and the environment – you could look at companion planting, or natural barriers, such as sheep's wool, to keep slugs and snails at bay.
The time of year to plant should be based on the directions on the plant label, as some need to be planted earlier than others. Some plants will need more protection from the weather too, so you might need to protect these from any spring frosts if planted earlier in the year.
Adding mulch around your plants can help keep the moisture in and keep the weeds at bay. Mulch is organic material like compost, wood chippings, or lead mould.
Deadheading your plants (taking off the fading or dead blooms) will encourage new growth and can keep your flowers in bloom for longer.

We hope this guide has inspired you to get your gardening gloves, grab a shovel and get creating a garden masterpiece! Check your Home Insurance policy to see whether you have cover – Sheilas' Wheels provides garden contents cover up to £2,000 including fire, theft, and lightning but not for storm or flood damage – please check your policy wording for full details.
You might also be interested in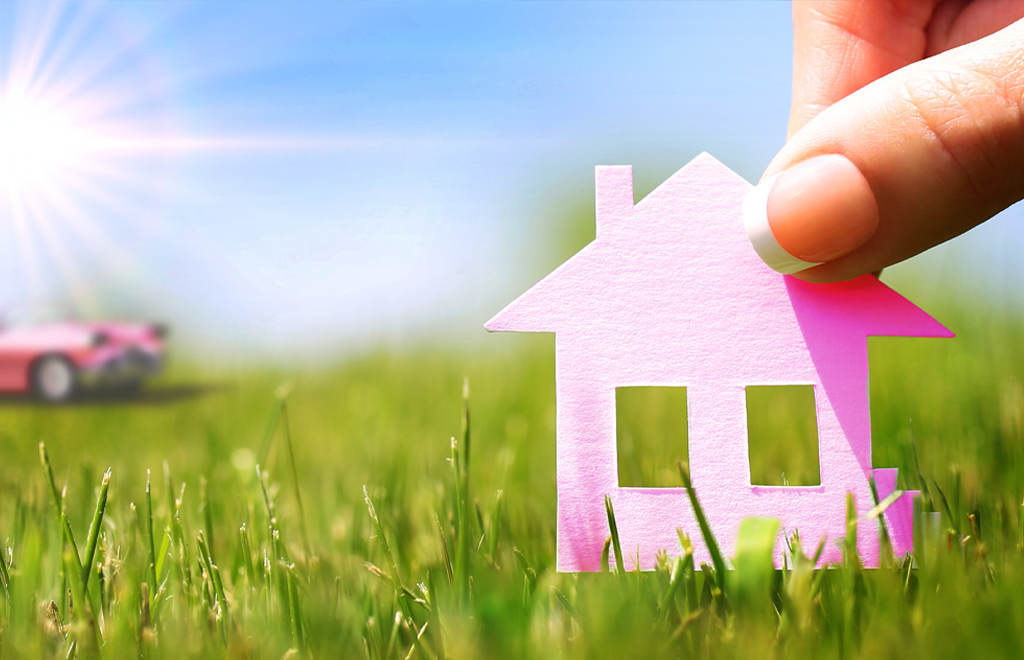 Keep your home safe this summer
Take a look at our top home security tips for the warmer months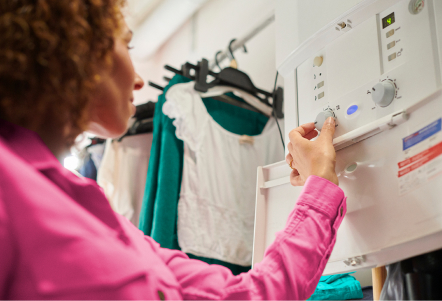 Lower your home running costs
Tips to help you save on day to day home running costs