Your guide to driving in Europe
Posted by
LStevenson
on
June 2, 2023

If you're thinking of heading to the continent for your next holiday, you might also fancy the idea of taking your car, or hiring one while you're there. As the roads over the Channel can be a bit different to the ones in the UK, we've put together this guide to give you a better understanding of what to expect when you hit the road.
Taking your own car
Having your own set of wheels when you're on holiday has some great benefits, including:
Flexibility
With your own car, you can set the schedule and the route too – no rushing for the train or plane.
Convenience
If travelling light isn't your thing, taking the car means you don't have to worry about luggage allowances, or how many pairs of socks counts as too many. You can also bring food along with you as long as it meets the guidance for taking food into the EU – meat and dairy are no longer allowed.
Scenic routes
Setting your own route means you can take in places you might have otherwise missed. Fancy stopping at some smaller towns and villages and soaking up the culture? Or maybe you'd prefer to head into the countryside away from the main toll roads? The road is yours.
Cost-effectiveness in a group
If there's more than a couple of you, then taking the car could save you some money, as you can split the cost of fuel and other costs between all of you, rather than individual plane or train tickets. A road trip is also a great way to spend time together.
While it's easy to focus on the positives, there are some less-fun things to keep in mind too though, depending on how much these might bother you:
Solo travel cost
If you're heading out on a solo road trip, the costs of the ferry/Eurotunnel, fuel, tolls, and parking can add up if you've got no one to split them with, especially if you're driving long distances.
Time
Travelling by planes and trains tends to be quicker than by road, so this can cut back on time at your final destination.
Planning
A road trip will take a bit more research and planning than just hopping on the plane – no one wants to get lost or run into unanticipated problems while driving in a new place. If you've got an electric vehicle you'll also need to plan in charging stops along the way.
Driving conditions
The driving conditions in Europe can vary from country to country. Make sure you get familiar with the local laws and regulations before you set off.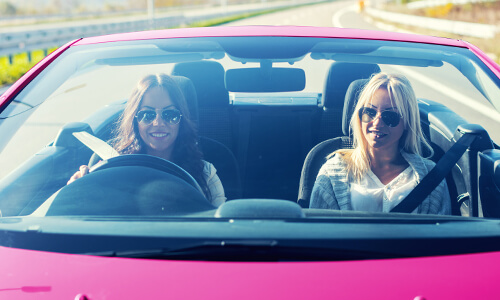 Before you hit the road
If you've decided it's for you, here are some things to remember before you pop your case in the boot and fasten your seatbelt!
Driving licence and documents
Your UK driving licence is valid in most European countries. However, in some countries you may need an International Driving Permit (IDP), which you can apply for at your local post office. You should also take:

Proof of car insurance
V5C certificate (vehicle logbook)
Proof of ID (Passport or picture driving licence)
Travel insurance documents
Policy number for European breakdown cover and the telephone number

Make sure your car insurance covers you
Depending on your policy, your UK car insurance policy may not cover you to drive in Europe, so make sure you check with your insurer before you head off. Your cover may also be reduced, for example, if you've got a Sheilas' Wheels fully comprehensive car insurance policy, we only provide you with Third-Party cover as standard when driving your car in Europe. You can upgrade this to Fully Comprehensive cover to match the level of cover you have in the UK if you like, but there is a charge for this. For more details, check out our European car cover page.
Get a European Breakdown Cover policy
Your car breaking down at home is bad enough, but being potentially stranded in a foreign country isn't something you want to have to deal with. There are lots of different policies available, so shop around to get the best cover for you.
Pack a driving kit
This needs to include at the very minimum a warning triangle and a hi-vis reflective jacket, as carrying these in your car is a legal requirement in some EU countries. It's also a good idea to take a first aid kit, and a map of the area you're planning to drive in, just in case the signal or battery goes on your phone or satnav.
Get familiar with the local driving laws
Speed limits, road signs, driving styles, even what side of the road you need to be on can vary from country to country, so do your research before you go.
Learn a few basic phrases of the local language
If you need to ask for directions or help, it's helpful to know some key phrases. Taking a phrase book with you is also a good idea.
On the road
Drive on the right – most of the time!
Most European countries drive on the right. Those that don't are Cyprus, Malta, Republic of Ireland and the Channel Islands.
Obey the speed limit
While you should be doing this when driving at home too, in Europe they usually use kilometres per hour rather than mph, which might take a bit of getting used to when checking your dash for your speed.
Be aware of the road signs
Road signs can vary from country to country, so pay attention to them, especially if you cross borders into other countries where the signs are likely to be different.
Don't drink and drive
While we'd like to think everyone follows this advice regardless of where they're driving, the actual drink-drive limit in Europe is much lower than in the UK. While you can legally have a small amount of alcohol before driving here, this will land you in trouble while abroad.
Toll Roads
Toll roads are common across mainland Europe and can be a great way to avoid longer alternative routes and reach your destination faster. However, it's important to know how to use them and what to expect.
Where will you find toll roads?
Most countries on the continent make use of toll roads including France, Italy, Spain, and Portugal. They are typically found on major motorways and dual carriageways.
How do toll roads work?
There are two main ways to use a toll road:
Pay as you go: You pay at a booth with either cash or card at each toll you use. If paying cash you'll need to use that country's legal currency, so make sure you have this ready.

Toll tag: These are small devices you can either buy here before you set off, or when you get to the country they're used in. There are 2 different types of tag, one which covers France and one that can be used in both Spain/Portugal. You place them behind your rearview mirror and can then use dedicated lanes at the toll booths which automatically read the tag. You'll get sent a fully itemised invoice the following month for your tolls which can then be paid by direct debit from your UK bank account.
How toll roads are priced
The price of tolls on European roads varies depending on several factors, including the length of the road, the type of vehicle, and the time of day. Tolls are generally higher during peak travel times and for heavier vehicles.
Tips for driving on toll roads in Europe
Make sure you've got the right cash to hand, in the right currency, or a credit/debit card to pay the tolls
Be aware of the different toll systems in use in each country you travel to
If you're driving a heavier vehicle like a motorhome, be prepared to pay a higher toll
If you're using an electronic toll system, make sure your device is properly registered and charged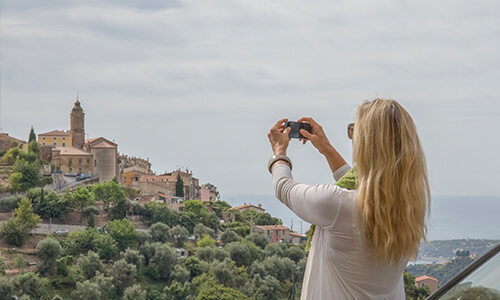 Hiring a car when you're abroad
If you're looking to get out and about while you're on holiday, hiring a car can be a great way to explore without having the restrictions of public transport. If you're thinking of doing this, here are some things to bear in mind.
Before you leave home
These are some considerations you should think about before you hire a car in mainland Europe, including:
Check your driving licence
You'll need a valid driving licence to hire a car abroad, so make sure you check the expiry date of yours before you travel, just in case.
Get some quotes
It's a good idea to shop around a few different car hire companies before you book so you can get the right package for you. Make sure to check out company reviews online as well.
Book in advance
It's the best idea to book your car in advance, especially if you're travelling during peak season. That way you can make sure you get the type of car you want and means you don't have to pay any extra fees for last minute hire.
Check the terms and conditions
It's really important to read the terms and conditions of the car hire agreement carefully before you sign it. This will help you to understand what's covered by the insurance and what's not.

What to do when you pick up your car
Inspect the car
Check the car over carefully and make sure any existing damage has been recorded and documents signed to confirm this before you drive away. This ensures you're not held liable for any damage that was caused before you took charge of the car.
Take a photo of the car
You can also take a photo of each side, the front, back and roof of the car, including any existing damage, before you drive away. This can help prove that any existing bumps or scrapes were not caused by you when you return the vehicle to the hire company.
Fill out the paperwork
You'll need to fill out some paperwork when you pick up your car including providing your name, address, and driver's licence information.
Pay the rental fee
Of course, you'll also need to pay for the car! You may have paid in advance as part of your holiday package, or a pre-booking, or you'll need to pay on collection of the car. The cost of hire should include the car, insurance, and any additional fees.

What to do when you return your car
Fill up the tank
The hire paperwork should confirm how much fuel you need to leave in the car when you return it, so make sure you fill up to at least this amount. If you don't, you'll be charged for the missing fuel amount.
Inspect the car
Just like when you picked up the car, give it a good check over before you take it back, so you're aware of any damage that might have been caused while you were renting it.
Return the car on time
You might get charged a late fee for a late return, so make sure you take the car back on time.
If you're in an accident while driving abroad
If you're involved in an accident, stay calm and assess the situation
If there are any injuries, call the emergency services immediately – make sure you have the local numbers
Whatever the situation, exchange details with the other driver(s) involved in the accident
This includes your name, address and insurance details
Report the accident to your insurance company as soon as possible

We hope these tips help you navigate your way through Europe smoothly and enjoy every minute of your road trip! Don't forget to double-check your insurance cover before you go, just in case.
You might also be interested in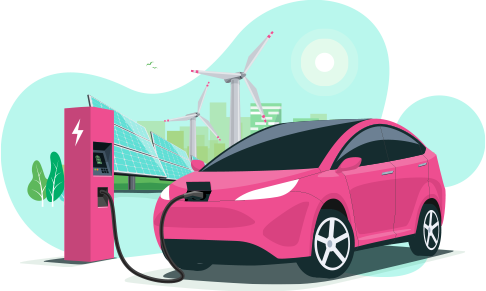 Are you ready for an electric vehicle?
Things to think about if you're thinking of making the switch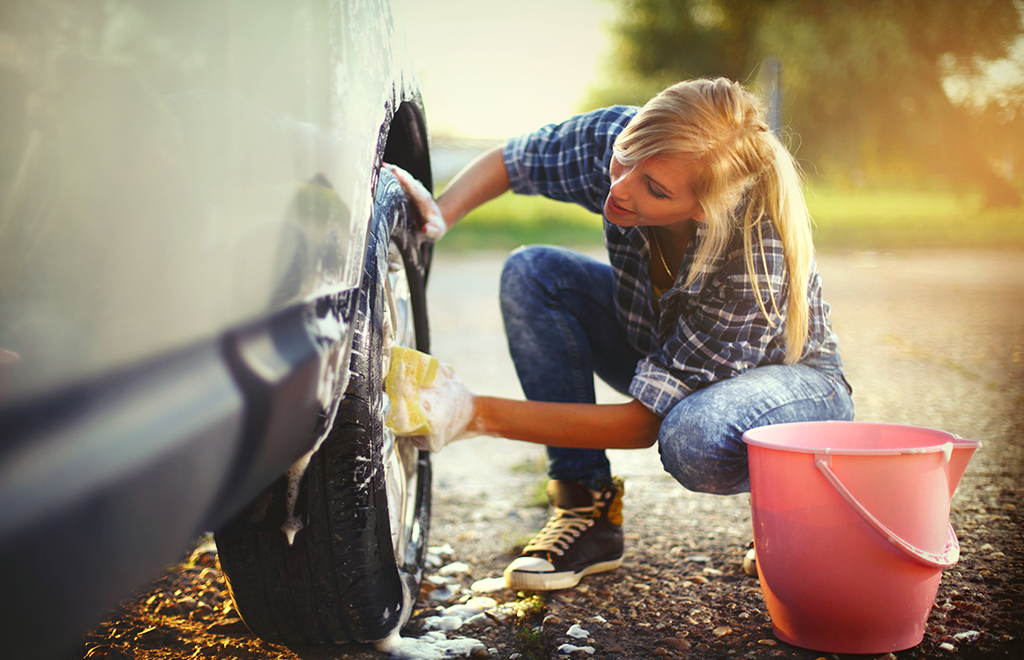 How to clean your car
Get your car shiny and new looking for those cool summer drives.